---
PHN Job Openings
Public Health Nurse (Full-time/ Part-time), Hightstown Borough, County of Mercer, is accepting applications for a full-time Public Health Nurse position. Applicants for part-time Pubic Health Nurses are also being considered. Interested candidates should forward a resume to Jill Swanson, Health Officer, Hightstwon Borough, 156 Bank Street, Hightstwon, NJ 08520. Deadline for application is April 7, 2017. To learn more info please click here. (posted on 3/8/17)
Public Health Nurse (Part-time), The township of Sparta, County of Sussex, is seeking a Public Health Nurse/Nurses, Click here to learn more detail, interested candidates should send resumes to Mr. William Close, Township Manager, Township of Sparta, 65 Main Street, Sparta, NJ 07871 (posted on 3/6/17).
Public Health Nurse (Part-time), Town of Westfield: This position works under the supervision of the Public Health Nursing Supervisor to promote and protect the health of the community by implementing the core public health functions to deliver essential public health services. Responsibilities include communicable disease investigating, well child health clinics, adult immunization clinics, immunization audits and providing health education to the community. A current NJ Professional Nurse license is required. Salary to commensurate with experience. Please submit resumes with cover letter to Health Officer at health@westfieldnj.gov (posted on 1/13/17).
---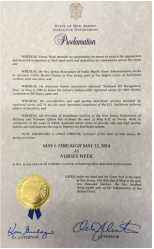 Proclamation

WHEREAS, Nurses Week provides an opportunity for nurses to receive the appropriate and deserved recognition of their hard work and dedication to communities across the state; and

WHEREAS, the New Jersey Association of Public Health Nurse Administrators works to represent Public Health Nurses in New Jersey, part of the largest sector of healthcare workers, with one voice; and

WHEREAS, the American Nurses Association initiated "National RN recognition Day" on May 6, 1996 to honor the nation's indispensable registered nurses for their tireless commitment 365 days a year; and

WHEREAS, the cost-effective, safe and quality healthcare services provided by registered nurses will be an ever more important component of the U.S. healthcare delivery system in the future, and

WHEREAS, the Division of Healthcare Services of the New Jersey Department of Military and Veterans Affairs has declared the week of May 6-12 as Nurses Week in celebration of the ways in which registered nurse strive to provide safe and high qualify patient care and map out the way to improve our healthcare system;

NOW THEREFORE, I, CHRIS CHRISTIE, Governor of the State of New Jersey, do hereby proclaim:
MAY 6 THROUGH MAY 12,2014
AS
NURSES WEEK
in New Jersey and ask all residents to join me in honoring these dedicated professionals.


---