NEWS & UPDATES
---

The National Nurse Act of 2017 H.R. 1651
Support Letter from NJAPHNA, 2017
Amends the Public Health Service Act to require the Department of Health and Human Services (HHS) to designate the Chief Nurse Officer of the Public Health Service as the National Nurse for Public Health within the Office of the Surgeon General.
Includes among the duties of this position: (1) providing leadership and coordination of Public Health Service nursing professional affairs for the Office of the Surgeon General and other agencies of the Public Health Service, (2) conducting outreach and education, and (3) providing guidance and leadership for activities that will increase public safety and emergency preparedness.
Requires the National Nurse for Public Health to: (1) participate in identification of national health priorities, (2) encourage volunteerism of nurses and strengthen the relationship between government agencies and health-related national organizations, and (3) promote the dissemination of evidence-based practice in educating the public on health promotion and disease prevention activities.
---
Notice of Rule Proposals - Childhood Lead Poisoning

---
---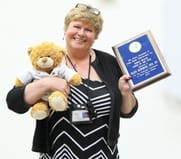 2016 Public Health Nurse of the Year
The New Jersey Association of Public Health Nurse Administrators (NJAPHNA) designated Ellen Rudowski of Lanoka Harbor, NJ as the 2016 NJ Public Health Nurse of the Year. This honor is given to a member of NJAPHNA who not only demonstrates expertise in the clinical nursing practice of public health, but is a visionary, leader, teacher and role model as well.
Currently employed by the New Jersey State Health Department as a Public Health Nurse, Ms. Rudowski has been involved in public health nursing for many years. In nominating Ms. Rudowski for this award, Shereen Naqvi, RN, BSN, Public Health Nurse in Monmouth County, noted that Ms. Rudowski "serves as a teacher and role model not just to her students, but to all those that know her. Her sense of humor is contagious and she never turns down a challenge, but rather works effortlessly to accomplish the task at hand which is how a leader should be."
Also Ms. Naqvi states, "Not only does Ellen dedicate her time to her job, but she also nurtures and educates those around her. As long as I have been a member of NJAPHNA, I have noticed she truly cares about the future of Public Health by exposing the young minds to the field. Furthermore, she generously donates to NJAPHNA and cares about the future of the organization." Ellen Rudowski, RN, received the award from co-Presidents Debee Gash, RN, and Ella Shaykevich, RN, during National Nurses' Week 2016....
click here to read the nomination letter
.
---
---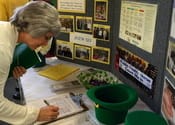 Support for S1147-Exemption Bill
Since 2008, parents in New Jersey have needed only to submit a letter stating vaccines violate their religion in order for their kids to be exempt, without explaining how or why. Vaccines for nearly 9,000 NJ students in the 2013-14 academic year were waived for religious reasons, compared to only 1,641 in the 2005-06 school year. NJ Legislation
A1931
/
S1147
clarifies the religious exemptions. Under this legislation, parents and caregivers will still be able to apply for religious exemption, however a notarized letter must explain "the nature of the person's religious tenet or practice that is implicated by the vaccination and how the administration of the vaccine would violate, contradict or otherwise be inconsistent with that tenet or practice" (bill S1147:
http://www.njleg.state.nj.us/2014/Bills/S1500/1147_I1.PDF
). They would also have to submit a signed statement by a New Jersey doctor that the person has received counseling about the risks and benefits of vaccinations. Schools would be prohibited from allowing an exemption unless these new requirements are followed.
---
---
PROMOTE PROTECT PRESERVE